Grand Prize Winner
Joan Rigali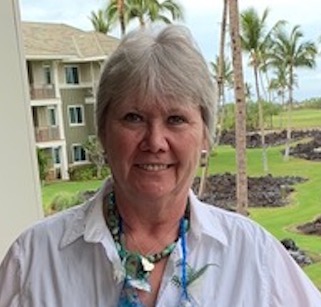 If you wonder what Mother Theresa, Florence Nightingale, and a mother hen would be in person then you would want to know Joan Rigali. She is 65 and the head nurse for the COVID/ICU at St. Mary's in Chicago, a hospital entirely turned over for treatment of COVID patients and the 3rd largest treatment facility in the city.
With 45 years of nursing experience, she treats patients and teaches younger nurses and those visiting from neighboring states such as Tennessee and Florida in protocols which they hadn't learned in their careers. Many of these younger nurses benefit from Joan's mentoring in handling and treating patients.
Additionally, the attending residents are often consult with her on how to treat patients who arrive with various and multiple underlying conditions who require care in addition to proning, intubation, etc. It is Joan's experience that allows her to develop care in novel and comprehensive ways for patients of all levels and complexity.
Finally, Joan goes the extra step to hug her patients, putting herself at risk of infection, believing in the power of touch. She loves her patients. She plans on retiring next year. Pray she makes it to retirement.
— Bob Sutis, brother
Note from Joan to Bob: Your words and thoughtful expressions keep me going. I had three nights off and all I did was sleep. Last night I ordered food and brought it into work as it was the last night for some of our traveler RNS that came to help us. They were awesome. They came from Tennessee, Texas, Nebraska – and respiratory therapists from North Dakota. I sported lasagna, chicken, salad, garlic bread….a homey Chicago meal….I am back to work tonight…..it's going to be another tour….but I am rested up.
Runner-Up
Dena Shugart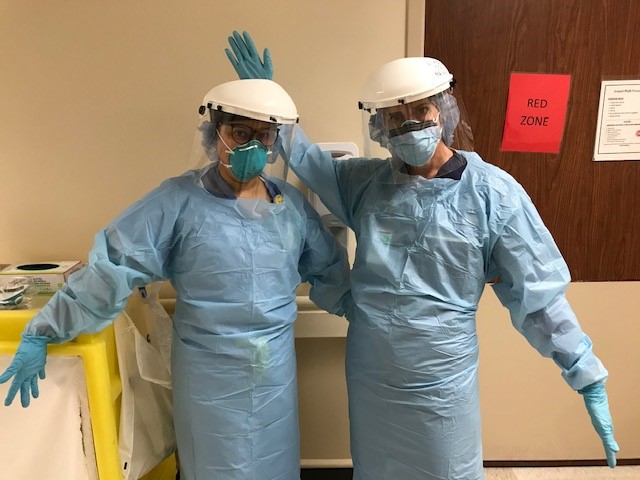 I would like to nominate Dena Shugart for her loving care and uncompromising devotion shown towards her patients. Dena is an Occupational Therapist at a Level 1 Trauma center in Texas Medical Center, Houston. As cases increased, she was the first of 40 therapists to volunteer to treat COVID-19 patients, which requires numerous safety precautions (e.g. wearing three masks & a face shield, even though she is very claustrophobic.)
While treating these patients, she recognized that they often lack several necessities one might call 'personal items'– an issue intensified by limited visitation/isolation. They do not have access to many items, like underwear, hair brushes, Chapstick, puzzles, etc. Dena embraced this issue and setup a compassion drive where individuals can donate items to help the patients. She has received countless donations (see pictures) that make the patients' recovery a little easier. Due to the positive effect on her patients and the success of the compassion drive, she has expanded the distribution of items throughout the hospital.
Thank you, Sasha, for supporting the COVID-19 relief effort in your own signature style & allowing me to tell Dena's story.
— Scott Shugart, husband
Runner-Up
Tangie McGuire
I would like to nominate Tangie McGuire. She is a single mom LPN, working on her RN, whose daughter has danced ballet with our son for years. She was on one of the first coronavirus cases in DC and has recently been dealing with whole families testing positive. She is African-American and serves in a low-income neighborhood clinic. She is also one of the most fun people I know.
I could go on- she has volunteered backstage at the Washington Ballet's Nutcracker, she took in her sister's baby to raise when it appeared her sister was heading for prison, she bounced back from an unexpected stroke in her early 30s. My mother, a retired nurse, loved her as a daughter and our whole family cherishes her friendship. I can think of no one more deserving of all good things than this tireless nurse working 60 hour shifts.
Thank you for your artistry and generosity.
— Paula Lytle, friend
Runner-Up
Dr. David Jacoby
Dr David Jacoby, practicing in San Carlos, CA, San Carlos believe it or not still makes house calls and works at least six days a weeks often fourteen hours a day. I sometimes hear from him at his office at 9 pm calling from his office after visiting his hospitalized patients. Incredibly knowledgeable one of the most intelligent physicians I've ever met. And an incredible human being. Your beautiful cross would be a treasured memento of his dedication to his physicians' oath.
— Elizabeth Lacasia, patient
Runner-Up
Helen Hoppe
Helen is a veterinary nurse at Bay Beach Veterinary Hospital in Virginia Beach, VA.  She has worked tirelessly during this pandemic to keep all the beloved fur babies safe and healthy.  The clinic is open 24 hours a day and she is taking on extra shifts to help in the ER.  During these crazy times she has also adopted an older cat with serious health issues because he needed a great home with someone who could care for him. He brings her great joy and comfort as her family all live in Richmond, VA.  She has also been a tireless source of support and positive energy while I have been diagnosed with breast cancer.  She is a beautiful, bright light for people and their pets during these scary times.
— Ann Phillips, sister